December 22nd, 2020 at 05:24 pm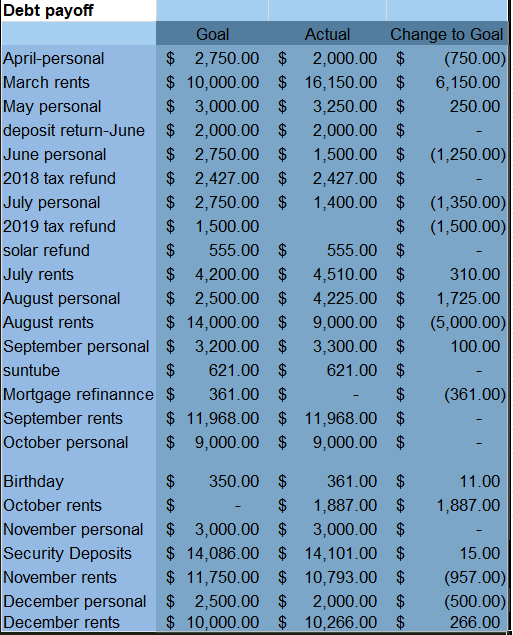 HI all
Above is my house fix up debt payoff. goals to actuals. I am so grateful for this group. I am looking forward to setting goals and investing more. My past 6 years most of my money (though not all) went towards the rentals and this crazy house fix up. I DID continue investing automatically every month through out but not as much. Still figuring my goals but here are some updates.
1 I paid off ALL the house fix up debt and I did not have to sell any properties to do so. Crazy insane year. Finally that house fix up period is over and I now have an almost brand new house that will I think appreciate quite a bit in the next 2 years.. if the new tear downs and builds mean anything. I think I will keep the house at least 2 years to take advantage of that. We shall see.
2. My contract at work ends 1/31/21. I have 3 potential job opportunities winding their way through the process. I do not expect much news until after the near year. I DO plan to go back to work at least for a few months to build up my savings (see my new sidebar). The job market is slower for sure but still a few things out there.
3. After January 2021 I will transition to FULLY relying on the rentals for all my regular costs and budgetted extras so anything I make in a job will go towards savings/investments minus some fun things and helping people. I want to use my money on experiences and helping people vs buying things.
4. I think I feel safer having $750k in investments to feel financially free (so I am $370k short right now) but I do not want to fall into the trap of continually movnig the goal posts for myself. I will reevaluate that as I go. I am already starting to relax a little bit with money. I have taken several small and midsized road trips this year and am loosening up on spending. I go to North Carolina skiing and hiking next week. I do not want to waste money though so I try to be frugal where I can and still live a bit. I awnt to give away more too. I somehow came up with $100k (see graphic.. note I did not escrow for real estates taxes last year so the months skipped of rental monies or super low rental monies reflect those monies going for taxes) between April and now to pay off the house fix up debt. if I can do that again it can really help this goal of $750k but how much of my life do I want to give up for that.. not alot. so it will depend on this new contract. One job I interviewed for sounds SUPER awesome and fun (and pays the most) .. the others sounds average.. not as exciting or fun. we will see. (and pay less).
5. I feel grateful to still have great health and a car that is nowhere near it's end .I love my chevy Suburban!

6. I will evaluate this year if my new property manager is savings me money or costs slightly more for more peace of mind. In either case I am beyond thrilled with switching and the peace of mind it brings.
7. I want to lower my house costs and move eventually. I do not see this house as a long term house.
Keep going forward everyone. Momentum is key. Even doing one thing towards your goals a day or week keeps you on track.
I am teaching a David Ramsey financial freedom course next month via Zoom. I will get it set up on the web and post it here in case anyone wants to come.
The Christmas Star was here!!